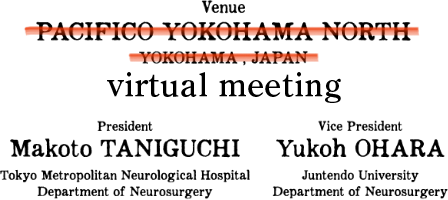 UPDATE on COVID-19 (March 24, 2020)
Postponement of the 35th Annual Meeting of the Neurospinal Society of Japan and the 11th Annual Meeting of Asia Spine
As previously announced, due to the spread of the COVID-19 and the ban on international travel, the above joint meeting has been rescheduled to the following dates:
The 35th Annual Meeting of the Neurospinal Society of Japan


Monday, November 9 – Tuesday, November 10, 2020

The 11th Annual Meeting of Asia Spine


Tuesday, November 10 – Wednesday, November 11, 2020
*The venue for the meeting remains the same at PACIFICO Yokohama North.
The deadline for the Asia Spine abstract submission is Friday, July 31, 2020 (JST).
We look forward to your submission.
We thank for your understanding and continued support for this meeting. If you have any questions, please contact the secretariat at 11amoas@convex.co.jp.
See you in November in Yokohama.
Makoto TANIGUCHI, MD, PhD
President
The 35th Annual Meeting of the Neurospinal Society of Japan
The 11th Asia Spine Annual Meeting